Yacht refits; it might sound like either a very abstract or a rather overwhelming undertaking to a (potential) yacht owner, yet it need not be either of those two. Let EXMAR Yachting's Xavier Ex take you behind the scenes to go into the 'why' and 'how' of a yacht refit.
REFIT: THE WHY
In general, in order to maintain a yacht in perfect working condition, a thorough inspection is required every five years. Often, these extensive services translate into a mini-refit, as one might as well make the most of shipyard-time. Sometimes, a more thorough refit is either necessary or desired. Take Sailing Catamaran DOUCE FRANCE, for example.
Following a refit survey in Seychelles, where a clear outline of the extent of the refit was crafted with crew, owner, technical manager and shipyard representatives, DOUCE FRANCE sailed to a shipyard in France. What's in a name, but there are more reasons to choose this location for its extensive refit; Europe tends to offer high-quality refits, France is relatively nearby for the owner and to EXMAR Yachting, who are the owner's representative and the ship managers, and it means that all parties are working in the same time zone. Xavier Ex, the owner's representative, explains: "Working in the same timezone is not an essential element to a successful refit, but it does make communication timelines more efficient. When you complete a refit in New Zealand, there is often a 12-hour delay for every phone call or email. Matching time zones allow for much quicker response times."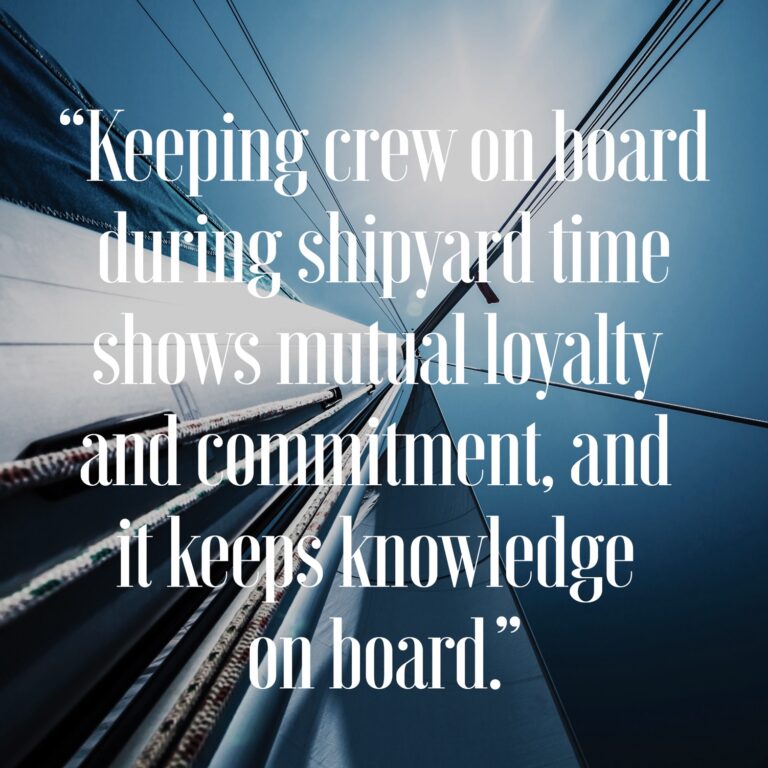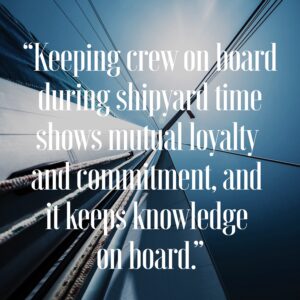 REFIT: THE WHAT
In case of DOUCE FRANCE, the largest portion of the refit meant a full repaint. Everything from topsides to masts, booms to buoys and hulls to davits was repainted, giving the catamaran a fresh new finish. Worth noting is that the colours and style of both the paintworks as well as the interior were renewed without modification, as even after twenty years of ownership, the owner is still in love with his yacht as it is. Xavier: "Of course we upgraded the ship's systems wherever it was useful, but the overall design was and remains timeless to this day."
Speaking of upgrades, the inspection of the ship's structure from the inside of DOUCE FRANCE allowed for a thorough inspection on the inside. "She was completely open and dismantled, so we took full advantage," says Xavier. "Completely new crew cabins with improved lay-outs are being installed and the galley is receiving a full refit as well. The guest areas all received a full refurbishment, deliberately retaining its classic style. Even the insulation of the ship was renewed to match current standards, with better sound and thermal properties. There was a full upgrade on the ventilation, a redo of water- and air condition piping and part of the electricity was updated as well. No stone was left unturned."
REFIT: LONG-TERM VISION
It is clear that a refit does not mean renewing for the sake of renewing. DOUCE FRANCE received a full EDCIS (professional IMO compliant digital charts system) upgrade, the communication system was completely renewed and upgraded, including a new, air-conditioned server rack and new modems/routers for 5G, wifi connection throughout the vessel and she is Starlink-ready. "It was decided to future-proof the vessel without letting ourselves get caught up with complex and redundant systems," says Xavier. "Often simple is more reliable, especially out in the open sea. That way, things are easier to repair on-site if ever needed and spare parts are easy to find, making the ship easier to handle and cutting potential downtime."
Another deliberate choice in keeping the ship easy to handle, was keeping on the entire crew during the refit. Even during the shipyard period, logistics continue, and own crew can do so much more efficiently. Plus, it can be a really interesting period for the crew, according to Xavier: "Crew can learn new things, which adds to their personal development, but also makes them better crew on board their vessel in the long run. Keeping crew on board during downtime shows mutual loyalty and commitment, and it keeps knowledge on board."
REFIT: OWNER'S REPRESENTATIVE
In DOUCE FRANCE's case, the shipyard period means that next to the crew itself, there is a dedicated project manager representing the Owner on board, who is responsible for monitoring the shipyard activities whilst the Captain of course remains responsible for safety of the ship and the crew's tasks. Xavier: "The both of them ensure the synergy between shipyard and crew, making sure they do not get in each other's way but reinforce each other where possible."
The two key figures act collaboratively on a problem-solving level, of course in close contact with the owner and Owner's Representative. "As Owner's Representative I have more decision-making rights. Also, the fact that I am not on board all the time makes that I bring a fresh perspective, which always helps with longer projects such as refits. As EXMAR Yachting, we are the main point of contact for the shipyard as we represent multiple vessels, we are the point of contact for respective owners and the point of contact for personnel on board. Our voice carries more weight as a result."
Part of that weight is the fact that EXMAR Yachting has a direct line with the technical experts of the EXMAR Group. "It's why we have the broadest maritime knowledge of the entire yachting industry. We can lean on the broad in-house knowledge for specific suppliers and contractors, for example. EXMAR's purchase department also ensures that purchases are made properly, cost-effective, logistics done etc. We are a small team, so we're right on top of things ourselves. Combine that with the extensive, collective know-how and you have a win/win situation."
The fully upgraded, nearly-new DOUCE FRANCE will be back in the water by summer, which is when she will be available for charter in the Mediterranean.